Accommodation at Awarakau Lodge on the Chatham Islands will impress you. The quality and comfort of the setting and the surroundings often surprises first-time guests. It's also the reason why so many come back.
Awarakau Lodge has been designed to provide luxurious lodge-style accommodation in a family-friendly setting.
The lodge is a quiet sanctuary in the midst of a busy farm; although, the dining room is usually humming with conversation in the evenings – mostly centred around the delicious food and celebrating the activities of that
Accommodation
Awarakau Lodge can cater for couples, families or groups of up to 8 people, in a choice of Queen or Twin rooms, each with their own en-suite bathroom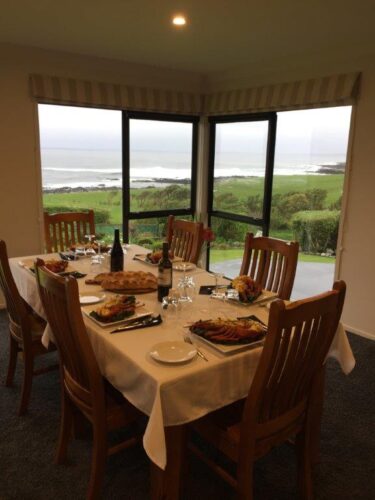 Inclusions
Accommodation at the lodge includes complimentary continental breakfasts, access to a comfortable guest lounge with Sky TV and tea and coffee making facilities.
Packed lunches can be provided in addition to a cooked meal in the evening, at your request
Service:
You are sure to love your stay at Awarakau Lodge as you experience the personalised service the Greg and Rosemary provide for each of their guests
Your accommodation has well-appointed rooms and spectacular views. Guests get to enjoy exquisite buffet meals and the guided commentary on the daily tours. Rosemary and Greg are the perfect hosts and make guests feel at home in the lodge.  They also have an amazing amount of local knowledge to share with their guests
The views from the lodge accommodation are delightful, in all weather.
Look across the immaculately kept lawns to the ever-changing moods of the Pacific ocean. Stroll across the grounds to the foreshore and see for yourself the myriad of life in the rock pools.
Catch a fish from the rocks, while watching the seabirds swoop and soar.
It really is no wonder that so many people choose to stay at Awarakau Lodge, again and again.
Check out some of the attractions and activities that the Chatham Islands has to offer here.